Baldwin

High School




Class Of 1979
Welcome to the Baldwin High Class Of 1979 web site. We are excited to see that so many of our classmates are logging on. This site is our own private on-line reunion...a place where we can get reacquainted with old friends and begin to forge new friendships.
Please continue to spread the word and invite other classmates to the site. If you have pictures from our past reunions or fun memorabilia from good ole H.P. Baldwin High during our years there, let us know. We'd love to include new things so that people will visit the site often.
We'll update the site with announcements of any upcoming events.
Looking forward to more good times!
Mary Curammeng Calegari and Tanya Alconcel Barbero
BHS class of 1979 20th Reunion Photo July 1999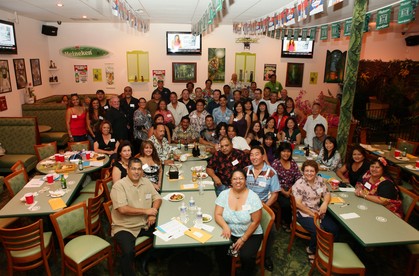 30th Reunion Photo Watercress Sports Bar November 2010
ANNOUNCEMENTS
•

CLASS REUNION 2014: SATURDAY, NOV. 29, 7PM, WATERCRESS LOUNGE

Baldwin High School Class of 1979 will be celebrating their 35th class reunion on Saturday, November, 29, 2014, at 7:00pm at the Watercress Lounge in Wailuku.
The cost is $20.00 per person in advance or $25.00 per person at the door.
Please RSVP by Thursday, November 20, 2014, or mail payments to BHS Class of 1979 in care of Randy Ginoza 161 Holua Dr. Kahului, Maui, Hi 96732. Checks should be made to Randy Ginoza or Jennie Guerrero.
A meeting is scheduled for Thursday, November 20, 2014, at 7:00pm at the Watercress Lounge. Please contact Randy Ginoza at 808-357-1495 for more information.

•

VEGAS TRIP UPDATE:

Everyone meets at Triple 7 Restaurant & Brewery (Mainstreet Station Hotel and Casino) on Nov.4 & 5 at 7:15 p.m. On Saturday the 5th if there are interested people who wants to go to the Eagle's Concert they too will meet at the Triple 7 Restuarant at 7:15pm.

•

There will be a meeting to discuss the Las Vegas Trip on Wednesday, Sept. 14, 2011, 7:15pm at the Watercress Lounge!

•

Eagles Concert in Las Vegas, Saturday, November 5, 2011, 8pm at the MGM Grand Garden Arena!

•
Come on class mates lets go VEGAS VEGAS VEGAS!!!

•

50th Birthday Bash in Las Vegas!

THE DATES HAVE BEEN SET!!! November 4-6, 2011 will be our time for celebrating our big 5-0 in Vegas!

Please take some time to complete the new survey. It will help us in the planning of this once-in-a-lifetime event.

Next meeting is scheduled for Wednesday, Nov. 17, 2010, at 7:15pm at the Watercress Lounge. For those of you who can't attend and have any ideas, suggestions or connections---let us know by email or via this website. Please fill out the survey so that we can get an idea of how many classmates are planning on going to Vegas!

Spread the word....let all our classmates know what's happening. (And take some time to update your profiles while you're at it! ) Let's continue to keep in touch!

•

WOW!!! The BHS Class of 79 is the best. We had a SPECTACULAR 30th reunion.

It was great to see our classmates--- including many whom we have not seen since graduation. The food was GREAT, the atmosphere LIVELY, and the conversations FLOWING. Thank you to the "committee" and all those who contributed to make this a huge success.

* We hope to keep our communication open, so the MESSAGE FORUM or message board has been activated on the site. It's like an electronic bulletin board where we can post our thoughts and keep the conversation going...sort of like "computer talk story"!

* There's a limited quantity of Commerative CD featuring the songs of our high school events, Freshman Banquet, Jr. Prom, Graduation and other tunes of the time. We'll also have the 30th Reunion Group Picture available for sale after the Holidays. Check out the 30 Year Reunion reviews.

* The survey results are in and it looks like we'll be headed to Las Vegas in 2011 to celebrate our 50th Birthday collectively. More on that to come.

•

Classmate Lisa (Montgomery) Mahuna

Aloha Classmates,

It is with sadness that I announce the passing of our classmate, Lisa. She lost her hard fought battle with leukemia on April 17th. Our Prayer's and thoughts go out to her and her Family.

A Hui Hou,

Georgette Bissen-Pelekai