Baldwin

High School




Class Of 1979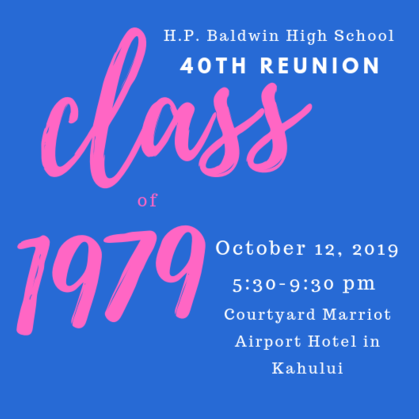 The 40th Reunion Event Page is now LIVE and LOADED!
Click on the 40th Reunion Link on the left side panel for more information and to sign up.
Cost is $35. You may pay on-line with a credit card or mail in check.
We are also accepting donations for door prizes. The next planning meetings are set for September 16th and September 30th 6:30 pm at the Marriott Courtyard Airport Hotel Lobby. All are welcome to come and give input or lend a hand. Last meeting turned out to be a "mini-reunion" of sorts, we got a lot of work done balanced with fun and laughter. The more the merrier! Bring any memorabilia of our high school years to share; yearbooks, pictures, etc.
Welcome to the Baldwin High Class Of 1979 web site. We are excited to see that so many of our classmates are logging on. This site is our own private on-line reunion...a place where we can get reacquainted with old friends and begin to forge new friendships.
Please continue to spread the word and invite other classmates to the site. If you have pictures from our past reunions or fun memorabilia from good ole H.P. Baldwin High during our years there, let us know. We'd love to include new things so that people will visit the site often.
We'll update the site with announcements of any upcoming events.
Looking forward to more good times!
BHS class of 1979 20th Reunion Photo July 1999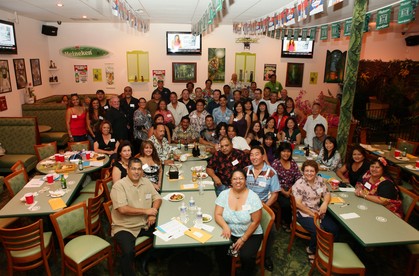 30th Reunion Photo Watercress Sports Bar November 2010
ANNOUNCEMENTS
•

Let's Celebrate US! Here's to 40 years!

Our 40th Class Reunion scheduled for Saturday October 12, 2019 at the Courtyard Marriott Airport Hotel in Kahului is just a few weeks away. Please help get the word out. We'd love to see many classmates there.

Apply on the website: H.P.Baldwin High School Class of 1979 to reconnect with old friends and make new ones! And, if you're not really sure if you 're coming....walk-ins on Reunion night will be welcomed..$40 at the door.

We are accepting donations of "door prizes". If you have a business or can soliciting donations or you have "white elephant" gifts from home please bring it to our next meeting or on reunion night.

Next planning meeting set for

MONDAY September 30, 2019 6:30 pm

at the Courtyard Marriott Airport Hotel.

Bring a little Potluck Pupu - so we can eat and meet!

A few classmates are coming together to plan a relaxed and fun event. All are welcomed to our gathering (which ends up being a mini-reunion of sorts). Classmates that are living away from Maui are welcomed to provide input and suggestions on our webpage or Facebook.